About Us
Courtesy Nissan of Tampa
Located in the heart of Tampa, Florida in the Tampa Bay Metro area.
We Take A Different Approach
Redefining the dealer experience.
Our mission to become the most guest-centric Nissan automotive retailer is clear across the experience Courtesy Nissan offers. Online car buying with Clicklane is part of our digital suite designed to enhace your purchasing and ownership experiences.
Leadership at Courtesy Nissan of Tampa
Brendan started with the company in 2002. He has held the roles of sales person, finance manager, finance director, sales manager, regional finance director and general sales manager before being named the executive manager of Courtesy Nissan of Tampa in 2014. He was also named the general manager for Courtesy Kia of Brandon in 2019. At Courtesy Nissan, Brendan and the team have won six consecutive Nissan Global Awards for excellence in sales and customer service. Both stores consistently rank in the top ten in the country for new and certified pre-owned vehicle sales. Brendan also serves on Nissan's Dealer Advisory Board where he works closely with the manufacturer to develop programs that enhance the guest experience and dealer performance. Most recently, Brendan helped Courtesy launch its new Clicklane program, allowing our guests to buy a car from anywhere with completely transactional online car buying. Outside of work, Brendan gives back to the community by supporting the American Cancer Society's Real Men Wear Pink campaign, Redefining Refuge, Hunger Fight and Big Brothers and Big Sisters of Tampa Bay. Brendan also enjoys attending his children's sporting events, saltwater fishing and University of Florida athletics.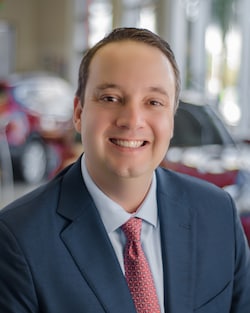 Brendan O'Brien
813-829-1813
bobrien@cogginauto.com
Community Involvement
At Courtesy Nissan of Tampa, we believe in giving back to those who are committed to doing good in our local community. We believe in supporting those in need and we believe in making a difference! Courtesy Nissan of Tampa has had the honor of supporting many charities over the past decade in the Tampa Bay area and look forward to many more!