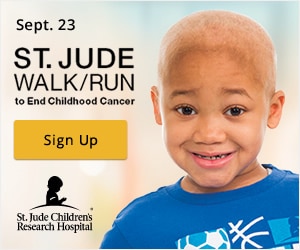 Courtesy Nissan of Tampa wants to help end childhood cancer. How? Our dealership is proud to support the St. Jude Run/Walk to End Childhood Cancer, which is taking place at Amalie Arena here in Tampa, Florida on September 27, 2017.
This year, St. Jude has a goal of raising a lofty $275,000. With the money that is raised from fundraisers like these, families that are impacted from childhood cancer will never receive a bill from St. Jude for anything.
Courtesy of St. Jude's aid, the overall survival rate for childhood cancer has gone from 20% when St. Jude first opened their doors, to now an 80% survival rate. St. Jude's goal is to not stop raising funds until no child dies from cancer.
We invite all to register for the event, as well as inviting your friends, and form a team. Or, if you want to still support he cause, but don't want to create your own team, you can choose to join an already existing team. With your support, you too can be a fearless fundraiser for the kids of St. Jude. Oh and you can even earn cool gear too!
Those looking to participate can choose to take part in the walk for $10.00 or in the 5K run for $20.00. Little ones, ages 5 and under, will be free.
On the day of the event, registration will begin at 6:30 a.m. There will then be a ceremony that starts at 8:00 a.m. and the run/walk event will begin starting at 8:30 a.m.
If you want to help in another way, you can choose to volunteer for the event.
Courtesy Nissan of Tampa is proud to be a local sponsor of events like this and thanks you for your support too. Now, let's all work to end childhood cancer. Together.