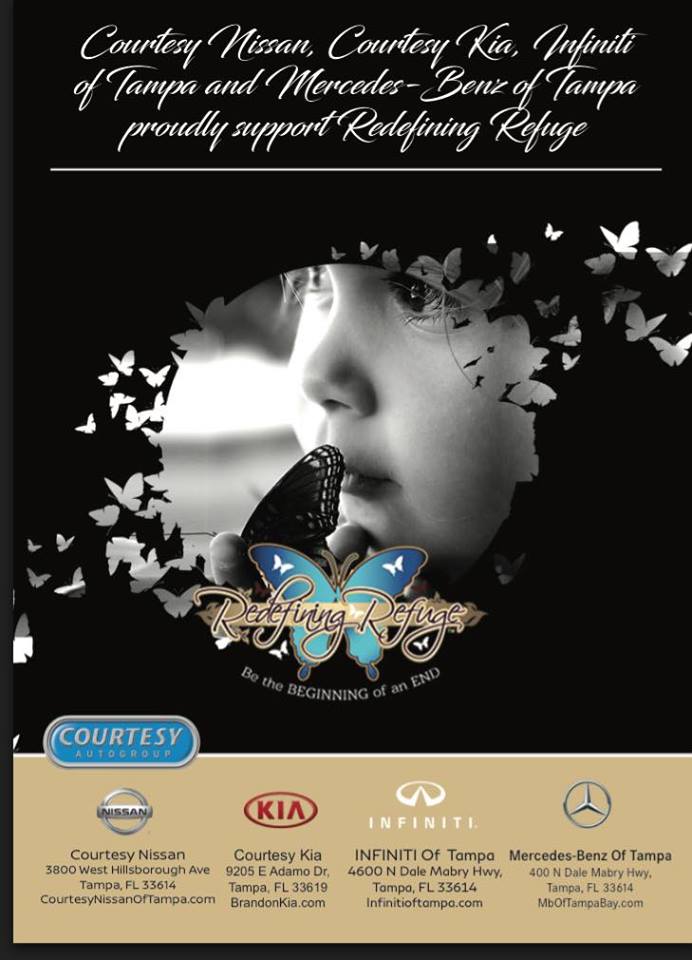 Courtesy Nissan of Tampa is proud to be a sponsor for the 6th Annual Bubbles and Butterflies Gala that's being held on Saturday, April 22, 2017 in downtown Tampa. The Bubbles and Butterflies Gala is being held at the Glazer Children's Museum from 7:00 p.m. until 10:00 p.m. and is black-tie optional evening. Throughout the event, guests will be able to enjoy hors d'oeuvres and desserts, a premier open bar, a custom cigar bar, walk the red carpet, a featured presentation, take part in a silent auction, get photos taken in a photo booth and photo backdrop, and much more. In addition, for the VIP sponsors, there will also be a special VIP reception that begins at 6:30 p.m.
The Bubbles and Butterflies Gala's purpose is to ensure the ongoing success of Redefining Refuge. Tickets for the event can be purchased can be purchased here and are available for $125 each.
100% of the proceeds made through this event will benefit Redefining Refuge Safe House and Schooling Projects. Redefining Refuge provides shelter and all fundamental needs in a safe and nurturing environment, as well as mentoring, therapeutic counseling, coaching, basic life skills, schooling, recreational and sports therapy, tutoring resources and educational needs, and branding removal/beautification. The Redefining Refuge program is customized to empower and as well as treats these survivors of these terrible crimes. Redefining Refuge's goal is to provide appropriate tools to attempt continued mentorship for up to one year, while sustaining positive change.
Redefining Refuge recognizes that it is important to view victims, not criminals. These individuals are viewed as the survivors that they are. This is all instrumental in the recovery process of these woman and children. By being met with an empathetic and understanding professional, it has proven to be an important way to show an alternative option.
Find our more information about Redefining Refuge here.
Restoring hope in these situations is critical and through events like this, it makes it even easier to do so. Courtesy Nissan of Tampa and the Courtesy family is happy to help support the cause. This will truly be a memorable evening among the stars and city lights.