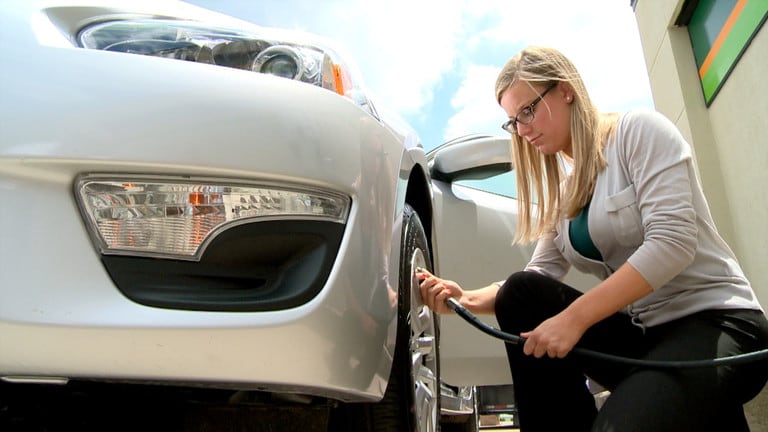 Did you know that this week, May 29 through June 4 is National Tire Safety Week? To help celebrate and raise awareness that proper tire care and maintenance is important, Courtesy Nissan of Tampa is reminding vehicles owners the significant role their tires play in keeping them safe on the road.
According to the National Highway Traffic Safety Administration a tire that is 25 percent below its recommended pressure is almost three times more likely to be involved in a tire-related crash than a properly inflated tire. In addition, low tire inflation tends to cost vehicle owners more money thanks to reduced fuel economy and premature tire wear.
It is recommended to simply check your tires monthly to monitor for any issues. Here are some tips to keep in mind to properly care for your tires:
Inspect your tires visually. Regularly look for signs of potential tire issues which may include under-inflation, damage or uneven wear. In addition, prior to long trips, make sure to inspect your tires to avoid issues along the way.
Know your tire pressure. To find your vehicle's recommended tire pressure, check the vehicle's driver-side door jam.
Be temperature-conscious. Did you know that your tire's pressure fluctuate with temperature changes. Make sure to check your tire's pressure when tires are cold at least once a month and following significant changes in temperature.
Rotate and balance. To make sure that your tires achieve maximum life and performance they should be rotated every 5,000-7,000 miles. Also, you should also make sure to balance your tires periodically to help minimize uneven wear and extend tread life.
Don't overload. Excessive weight can weaken tires and potentially lead to blowouts.
Avoid obstructions. Steer clear of large potholes, curbs or other objects when possible to avoid potential tire damage.
To help you when filling your tires, Nissan has included the Easy-Fill Tire Alert system on vehicles which allows drivers to take the guesswork out of if they are filling their tires to the proper pressure. When the driver stops to add air, the Easy-Fill Tire Alert system activates the vehicle's four-way flashers to indicate that the tire is inflating. When fully inflated, the horn then honks once to signal that the tire is at its recommended inflation level. If the driver continues to fill the tire with air, the horn honks twice to indicate over-inflation. Easy-Fill Tire Alert is now available on 11 Nissan models including Altima, LEAF, Maxima, Murano, Pathfinder, Quest, Rogue, Sentra, TITAN, Versa and Versa Note.
Learn more by visiting Courtesy Nissan of Tampa, which serves the Tampa, Wesley Chapel, and Brandon areas today. And if you're in the need for new tires, schedule your appointment online!